It is the goal of this weblog to randomly pay tribute to aeronautical achievements, people, events, and interesting aeronautical facts. Most of the time we look back over the phenominal history of American aviation. But today, it is fitting that we honor a private company which has aspired to the dream of space flight and are achieving it as I write this.
Photo Credits: NASA / SpaceX
5/31/2012: Back to Earth after Success.
5/25/12 Houston.. "Looks like we have a Dragon by the tail..."
5/25/12 SpaceX Dragon Capsule Approaches the I.S.S.
SpaceX's Falcon 9 Rocket - 1.1 Million Pounds of Thrust


"Dragon" reuseable spacecraft developed by SpaceX under NASA's Commercial Orbital Transportation Services (COTS) program.
Today, in the morning's wee hours, SpaceX successfully launched its Falcon 9 rocket to propel it's Dragon space capsule
into orbit
en route toward a rendezvous with the International Space Station. Our family has followed the progress made by SpaceX over the past several years. Today's mission is an endeavor only achieved previously by four enormous government programs.
We're proud that our hometown McGregor Texas is also home to the SpaceX rocket engine test facility.
SpaceX started as a private venture just shy of ten years ago. Today
the company has over 1,700 employees in California, Texas, Washington, D.C., and Florida.
They have harnessed the best of today's talent and technology in the reach toward their goal.
At they same time, they give back to their community as sponsors to youth programs, city events, and supporting our public schools. SpaceX is truly a first class company.
We cheer them on toward the ISS.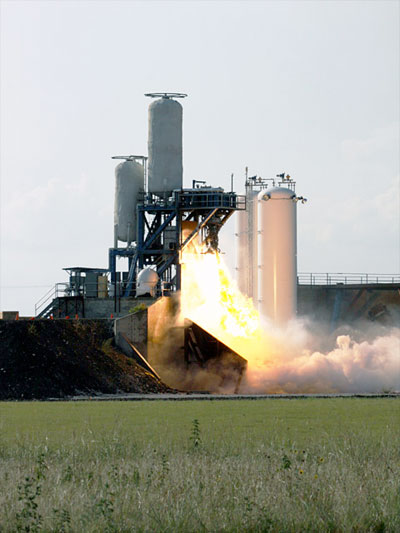 At right, and below:
SpaceX Test facilities in McGregor TX